Passivent's Thermal Aircool® ventilator is available as both a window or wall ventilator. It has been specifically designed to supply buildings with tempered fresh air during cooler weather. The unit also provides a fresh air inlet in warmer conditions, when warming is not required.  The unit will provide fresh air ventilation throughout the year and a secure night cooling strategy in warmer weather. The Thermal Aircool also incorporates all the features and benefits of the standard Aircool.
Features and benefits
Designed to work with all forms of wall construction, curtain walling and window profiles.

The Thermal Aircool system incorporates a low resistance airflow heater coil which connects to the main central heating system of the building.

An integral sensor clipped to the coil reports the temperature of the incoming air so that the water flow and temperature can be regulated via third party heating controls. When combined with the Passivent range of controllers the motorised damper ensures the correct level of ventilation is supplied.

Superior thermal performance with a U-value as low as 0.86W/ m

2

K when closed.

Excellent air tightness performance when closed.

Electrically actuated modulating low voltage dampers provide optimum design flexibility with virtually silent operation.

Thermally broken frame design minimises risk of condensation and unwanted draughts.

Internal cover grille protects against impact damage and improves aesthetics.

Both louvres and grilles can be colour matched to any RAL or BS colour.

External weather louvre provides excellent weather protection.

Can be supplied in modular form for maximum flexibility.

Internal integral sleeve to link internal and external elements for maximum airtightness and security. 

There are separate Specification Documents and BIM Objects for window and wall versions.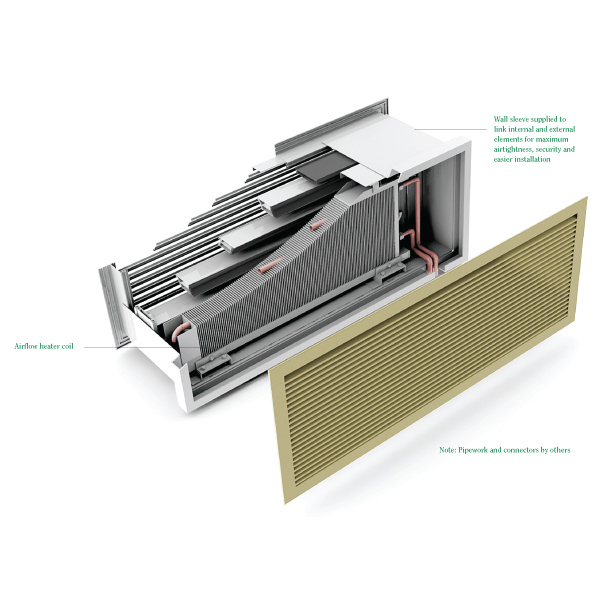 NBS Specifications
Have a question?
For any questions or queries about our product ranges and the technical support services we can offer, please contact us using the form below.