Passivent's Acoustic Aircool range is available as both a window or wall ventilator.  The acoustic range incorporates all the features of the standard Aircool® plus additional acoustic attenuation features. The range was developed to meet increased regulation requirements for sound reduction, and the increased noise exposure resulting from the greater use of brownfield sites. Independent acoustic test data to BS EN 20140-10 and ISO 140-10:1991 can be found as downloads under the Specification Documents section below.
Depending on requirements, acoustic ventilators may have a single or double row of internal acoustic chevrons and acoustic liners. Passivent Aircool acoustic façade ventilators can be complemented by Passivent SoundScoop acoustic ventilators for internal air transfer. This broader product range provides designers with the opportunity to adopt complete natural ventilation solutions where buildings have high external noise levels.
Features and benefits
Designed to work with all forms of wall construction, curtain walling and window profiles.

Superior thermal performance with a U-value as low as 0.86W/m

2

K when closed.

Excellent airtightness performance when closed.

Electrically actuated modulating low voltage dampers provide optimum design flexibility with virtually silent operation.

Single or double internal acoustic chevrons and acoustic liners depending on the level of noise reduction desired.

Thermally broken frame design minimises risk of condensation and unwanted draughts.

Internal cover grille protects against impact damage and improves aesthetics.

Internal integral sleeve to link internal and external elements for maximum airtightness and security. 

External weather louvre provides excellent weather protection.

Both louvres and grilles can be colour matched to any RAL or BS colour.

There are separate BIM Objects for window/wall versions and single/double baffle acoustic versions.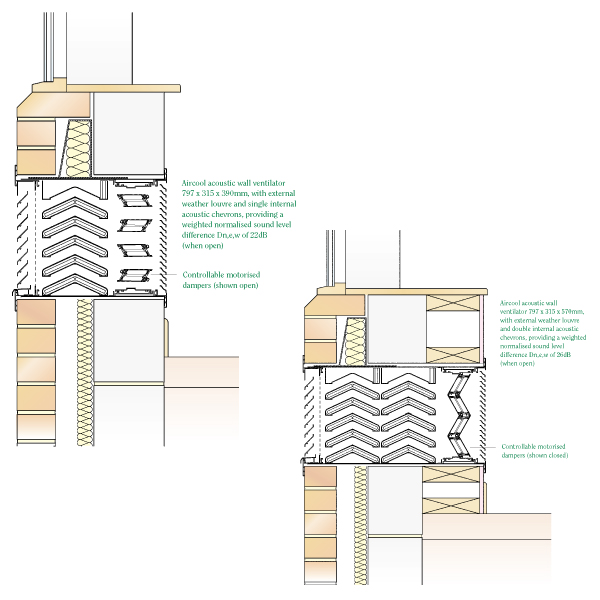 NBS Specifications
Have a question?
For any questions or queries about our product ranges and the technical support services we can offer, please contact us using the form below.