Passivent Airstract® is a range of roof mounted natural ventilation terminals which combine low airflow resistance with high airflow capacity and excellent weatherability. They can be used as part of a sustainable, low energy natural ventilation strategy to provide an exhaust outlet for used air. Used for passive stack ventilation applications in conjunction with Passivent Aircool façade ventilators, they can ventilate deep plan spaces and provide night cooling. They can also be used for multiple extract applications and mechanical extract outlets.
Other options include the Airstract iAT with intelligent airflow technology for still, windless days, and unusual events such as high occupancy levels or unusual heats gains.  An aluminium version is also available which offers a larger size range than the standard Airstract. The Hybrid Airstract Terminal offers  a system of ventilation provision or extraction with three modes of use depending on the needs of the building and outside conditions. See 'Features and Benefits' below for further details about our 15 Year No Leak Guarantee for this product.
Features and benefits
Harnesses the natural forces of wind, convection and buoyancy for energy saving ventilation.

Suitable for flat and pitched roofs of all material types.

Robust two-part construction including structural sub-base unit to guarantee wind load resistant design.

Square, rectangular and circular terminals available in a range of sizes and designs.

Motorised base dampers control airflow with excellent thermal and airtightness performance when closed.

Patented double bank louvres provide Class A 100% certified rain rejection (BS EN 13030:2001) so that your building can be fully ventilated regardless of weather conditions.

 

Resistant to continuous wind loads at 51 m/s (BRE tested).

4mm insect screen to prevent ingress of insects and other debris.

Passivent Airstracts

®

are covered by our 15 Year No Leak Guarantee. No annual servicing is required for this guarantee as there are no mechanical/electrical items such as actuators, within the terminal to maintain, therefore no external/roof access is required. For further information on the guarantee see…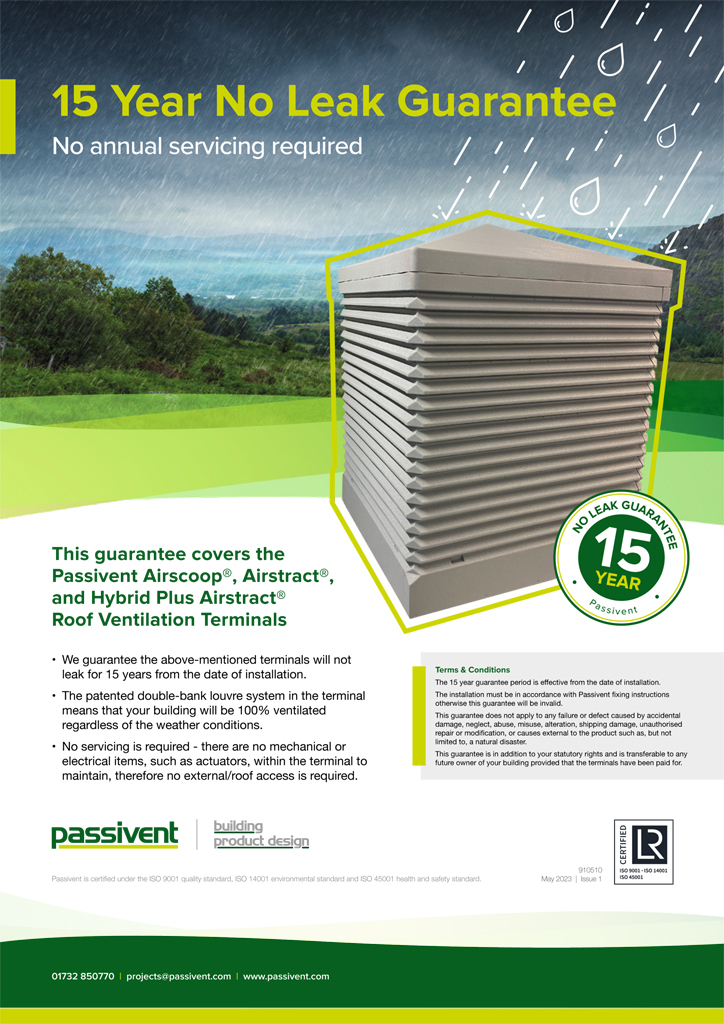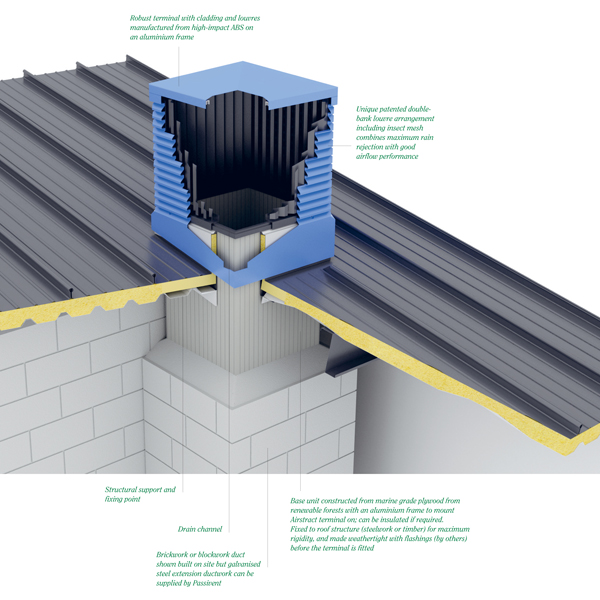 Have a question?
For any questions or queries about our product ranges and the technical support services we can offer, please contact us using the form below.