Passivent's Hybrid Plus2 Aircool® ventilator forms part of the Aircool range of controllable ventilators and is used primarily for installation in façades (external walls and glazing systems) in education, commercial and other similar buildings. It combines all the features of the standard Aircool ventilator with an innovative air tempering and mixing unit utilising a single energy-efficient fan.  It has three modes of ventilation dependent on the internal and external environment, offering both improved air quality and thermal comfort all year round. Together with the provision of a sufficient supply of external fresh air, heating and cooling are an important part of maintaining a comfortable indoor environment in order to provide good air quality, the removal of pollutants, and in maintaining CO2 levels to below 1500ppm.
Features and benefits
Contemporary design.

Quiet operation leads to less disturbance when in use.

Energy efficient fan resulting in lower running costs.

Sensors respond automatically to rising levels of CO

2

.

Three modes of operation to satisfy cool and warm conditions – passive, cooling and mixing modes. The mixing mode, utilising the fan, minimises the risks of cold draughts in colder weather, whilst in warmer weather the fan is activated without mixing to promote air movement and to assist purging the space more rapidly than in passive mode. The passive mode operates without fan assistance making it highly cost effective and energy efficient.

Meets the requirements of Building Bulletin 101 (Guidelines on ventilation, thermal comfort and indoor air quality in schools) and Building Bulletin 93 (Acoustic design of schools: performance standards).

Modular format with versatile mounting options to accommodate wall, curtain walling and windows.

Lightweight construction for easy lifting and positioning.

Minimal maintenance: no filters to replace, simply clean periodically to remove any dust.

Also available as a ducted version so the unit can be positioned within a ceiling void.

Effective and intelligent control of the unit is critical to maximising its performance – Passivent's iC8000 intelligent controller, internal CO2

and temperature sensors and external temperature sensor work together to determine the different operating modes and ensure automatic, optimum thermal comfort and indoor air quality.

There are separate BIM Objects for window and wall versions.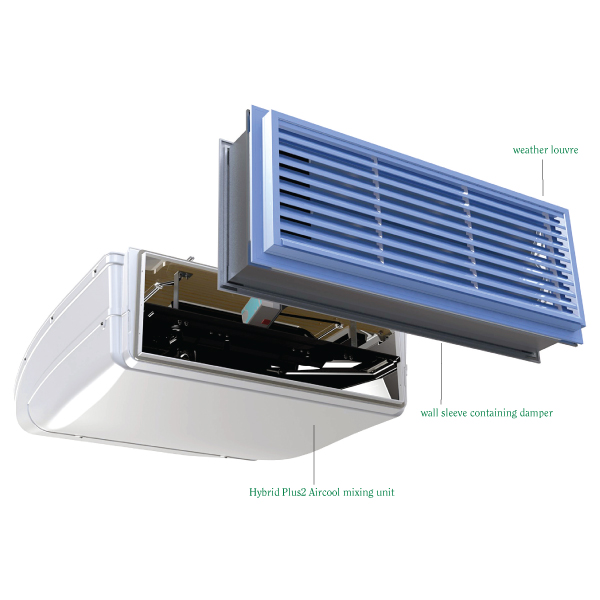 BIM Objects
NBS Member?
Click here to add this product to your specification.
Have a question?
For any questions or queries about our product ranges and the technical support services we can offer, please contact us using the form below.