New standards for ventilation in schools will transform approaches to design and system choices, as James Hammick of Passivent explains.
Following changes to the Department for Education's ventilation guidance Building Bulletin BB101, the new bulletin 'Guidelines on ventilation, thermal comfort and indoor air quality in schools' have been introduced to improve the respective.
The Priority Schools Building Programme has piloted the new guidelines in BB101 and has shown direct benefits to schools through lower capital costs, improved comfort conditions and reduced energy costs.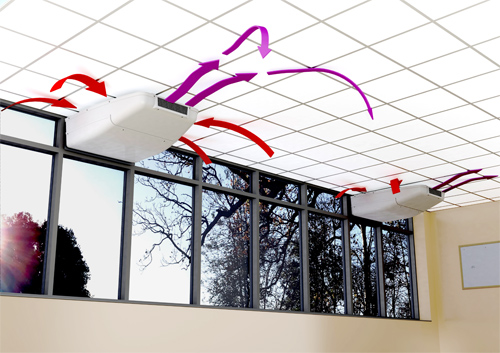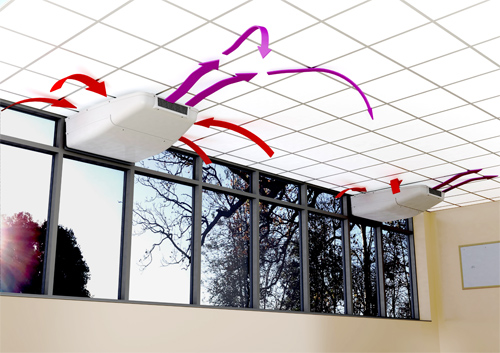 The changes
A major change to BB101 is the emphasis on indoor air quality (IAQ). Referring to the World Health Organisation's Indoor Air Quality Guidelines (2010), the update covers internal pollutants and external pollutants in air coming into the building if it's naturally ventilated.
Carbon dioxide is identified as a key indicator of ventilation performance for the control of IAQ. For natural and hybrid ventilation systems, the daily average of CO2 has been set at 1,500 ppm and not to exceed 2,000 ppm for more than 20 consecutive minutes each. For mechanical systems the daily average is 1,000 ppm not exceeding 1,500ppm for more than 20 consecutive minutes. This means a manual opening windows strategy must be replaced with automated products that sense CO2  levels and react accordingly.
For thermal comfort BB101 (2006), ventilation guidance was based around air flow rates for background and rapid ventilation, the latter being used to cover the overheating criteria. In the 2016 update, these ventilation rates were removed.
Instead, to avoid summertime overheating, the new guidance requires buildings to be Thermally Modelled (click here to take advantage of our thermal modelling service) in line with CIBSE's TM52 'The limits of thermal comfort: avoiding overheating in European buildings'.
More stringent weather file criteria must be used, specifically CIBSE Design Summer Year (DSY) data rather than Test Reference Year (TRY) data. In a change to working practice, designers must also look at adaptive comfort and operative temperature within the school.
During the winter and mid-season months, classroom occupants may be subjected to cooler external air entering the building. Guidance is given on acceptable internal temperatures depending on the room classification and the location of ventilation systems to avoid discomfort being an issue. Additionally, the update covers the heating system in the building to ensure this also doesn't adversely affect the occupants.
Implications for design
Design early, design right. Designers should be engaged in the ventilation strategy early in the design process. The correct specification at the conceptual design stage should prevent mistakes from being carried through to the final design. Working closely with mechanical & engineering (M&E) consultants and experienced systems manufacturers will enable designers to conceive a robust solution from the outset.
It is also essential that ventilation is considered in relation to the mass of the building and that the openings required to achieve the correct levels of ventilation are designed in to ensure the right quantity, size and location of the products will suit the requirements of the school.
The new guidance places greater emphasis on thermal modelling, requiring ventilation and thermal comfort design to be proved using such tools. Calculations at both concept and scheme design stages must be carried out for summer, winter and mid-season design conditions to prove that the design will operate throughout the year.
At the detail design stage it is desirable to use dynamic simulation tools particularly for night cooling. Choosing a systems manufacturer with this capability is therefore imperative.
Ventilation strategies and products
A move to hybrid ventilation systems is anticipated. While the revised BB101 continues to promote natural ventilation in schools, due to the known benefits such as night time cooling and good indoor air quality, the use of hybrid demand-controlled products are also cited.
Hybrids offer a mix of both natural and mechanical ventilation when required, for example, a naturally ventilated system with a low power fan to enable a summertime boost in times of low wind speeds or to assist with mixing cooler air with warmer room air during winter.
The energy required to temper the outdoor air in the cooler months can be significant. To maximise energy efficiency, the design of ventilation systems should wherever possible use the heat gains from occupancy and equipment and use this to warm incoming ventilation air.
Designs should also meet the DfE Acoustic Performance Standards for schools in Building Bulletin 93 to minimise noise transfer between different areas of the school building. This is especially important between noisy areas such as atria and quieter teaching areas, and there are now products to suit this need.
BB101 (2018) will transform ventilation design in schools. A flexible and collaborative approach between designers, M&E and systems manufacturers will ensure the most appropriate ventilation solution.
Click here to register for Passivent's CPD seminar, Natural Ventilation in Schools & Commercial Buildings (including changes to Building Bulletin BB101).
James Hammick is Design Manager at Passivent and a member of the BB101 Advisory Group. As seen in Architects Datafile Nov '16
You may also be interested in…