In addition to the range of air extracts that Passivent offers there are also different types of fans, window vents and through-wall vents and a range of ducting and roof tile or wall terminals for exhausting used air.  
For all the products shown below please see the iMEV range brochure here or email projects@passivent.com for further information.
Fans
Model: A151 DCE fan
Incorporates one of the lowest energy motors on the market as well as it being one of the most powerful. It can be commissioned as fixed speed or with a manual boost control that can be easily commissioned during installation. This fan is also used as part of Passivent's intelligent Mechanical Extract Ventilation system (iMEV).
Model: A151 DC W & A151 DC W CP fans
This fan is perfect for large multi-residential properties which require individual areas to be monitored and ventilated separately, without the need for occupant involvement. The CP (Constant Pressure) version is designed to be used with humidity sensitive extracts as part of the Passivent intelligent Mechanical Extract Ventilation system (iMEV).
Supply Air
When using mechanical extract systems fresh air vents must be provided to replace the extracted air. Passivent has various inlet vent options available – these include window vents (Tricklevents) and wall vents (Fresh Wall Vents) which are designed to direct air flow around the outside of the room and not into occupied areas. This stops draughts but also allows the fresh air to mix with the warm air from the central heating, creating comfortable conditions.  
Ducting

 
As part of the exhaust system for used air Passivent offers plastic rigid circular ducting which can be used to connect all parts of a Passivent system including extract to fan and fan to roof terminals. It is available with a number of different connection pieces to navigate different project layouts. Insulation is available to prevent heat loss and condensation. Plastic rigid flat channel ducting is suitable for extraction from wet rooms such as bathrooms and kitchens. Its low profile enables ducting to be concealed.
Roof Tile & Wall Terminals
A range of tile and wall terminals also form part of the exhaust system for used air. Tile terminals such as the Versa-Tile TT9 and Versa-Tile TT13 are designed to blend with most available manufacturers' roof tiles and will weather to match the surrounding tiles over time. Wall terminals are also available in the Passivent range.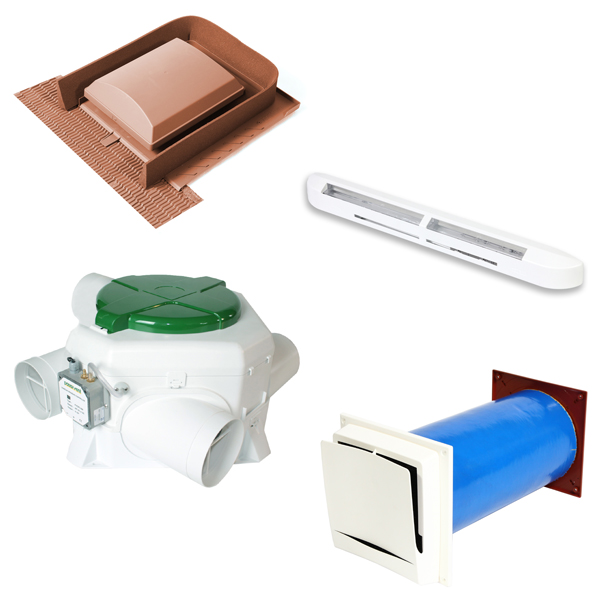 Have a question?
For any questions or queries about our product ranges and the technical support services we can offer, please contact us using the form below.